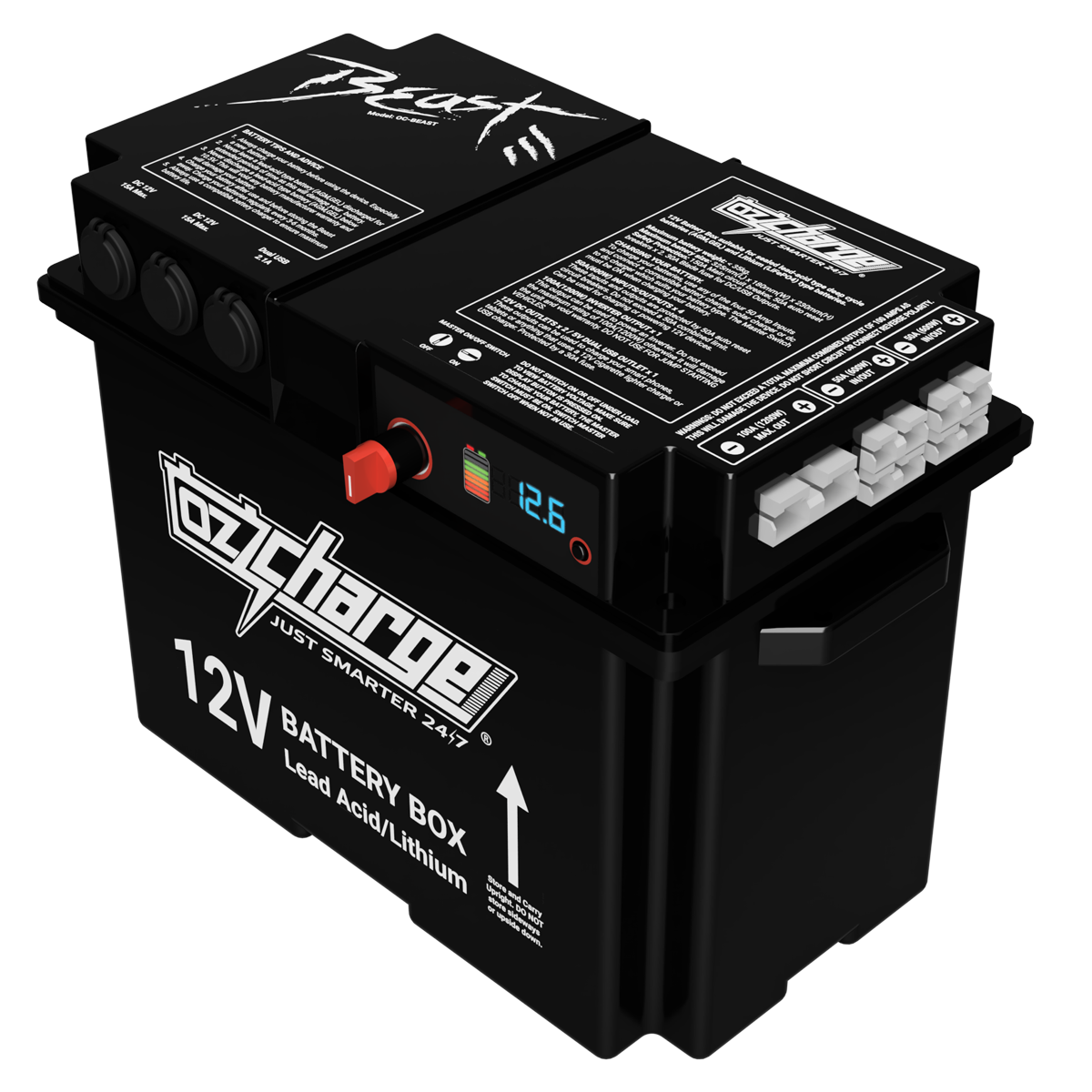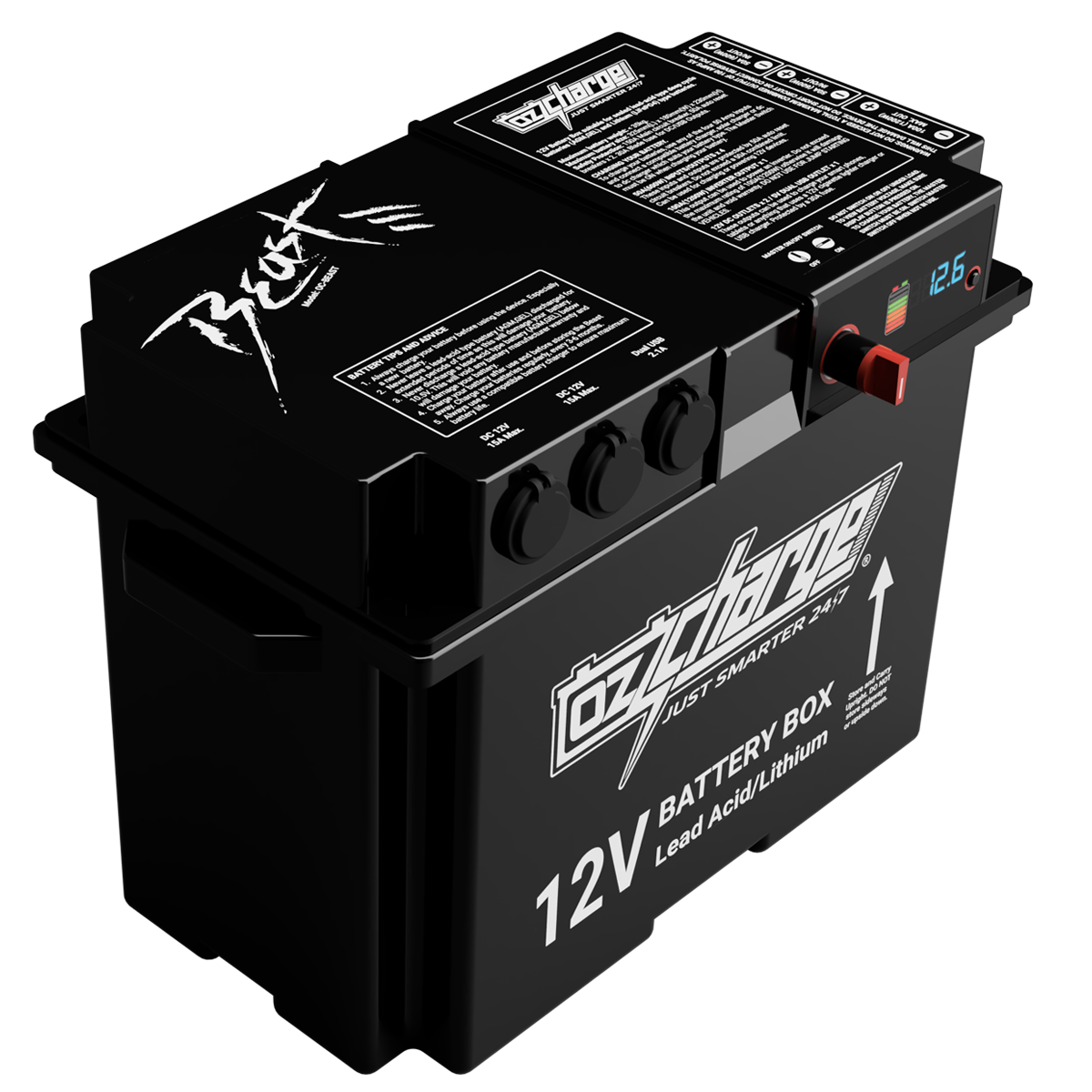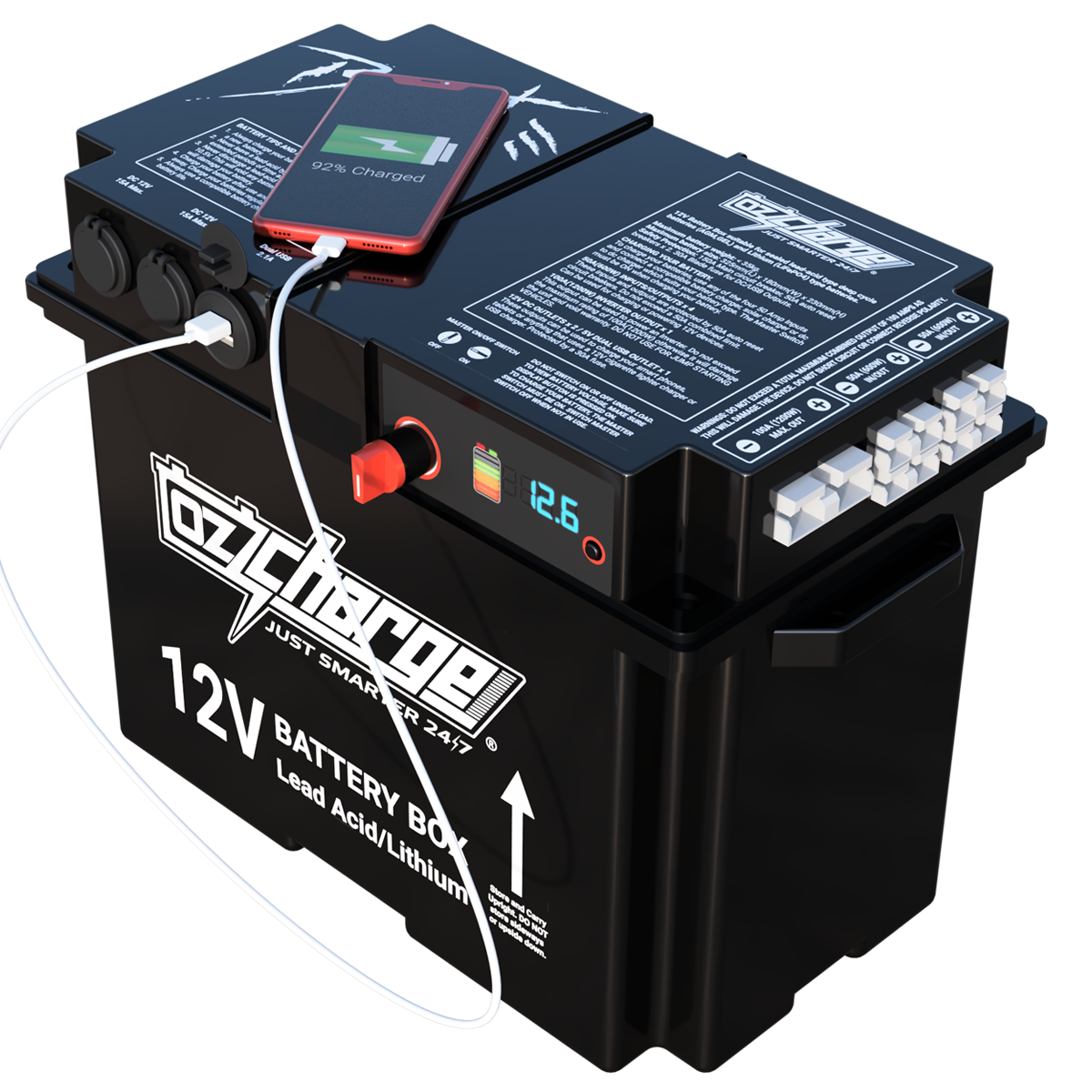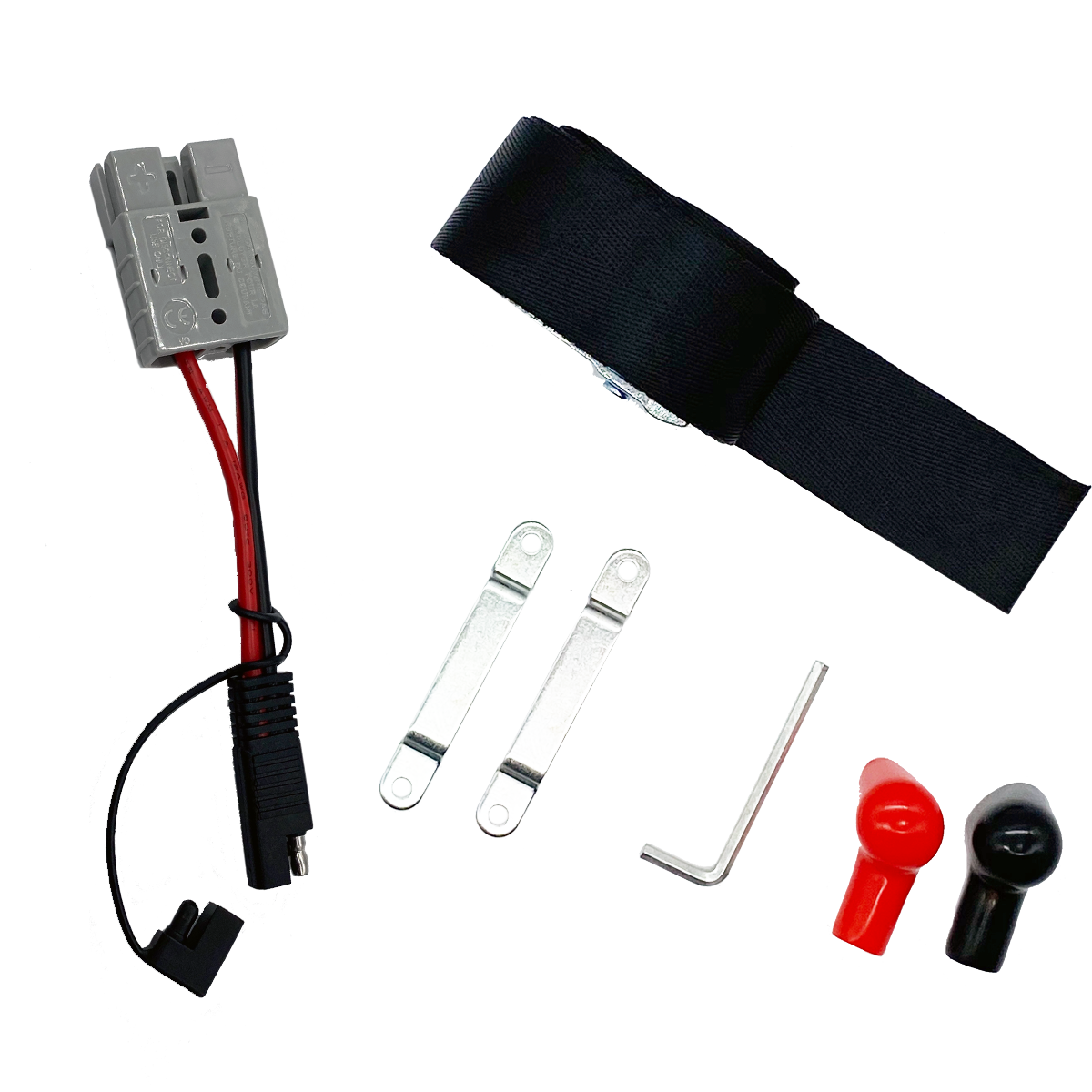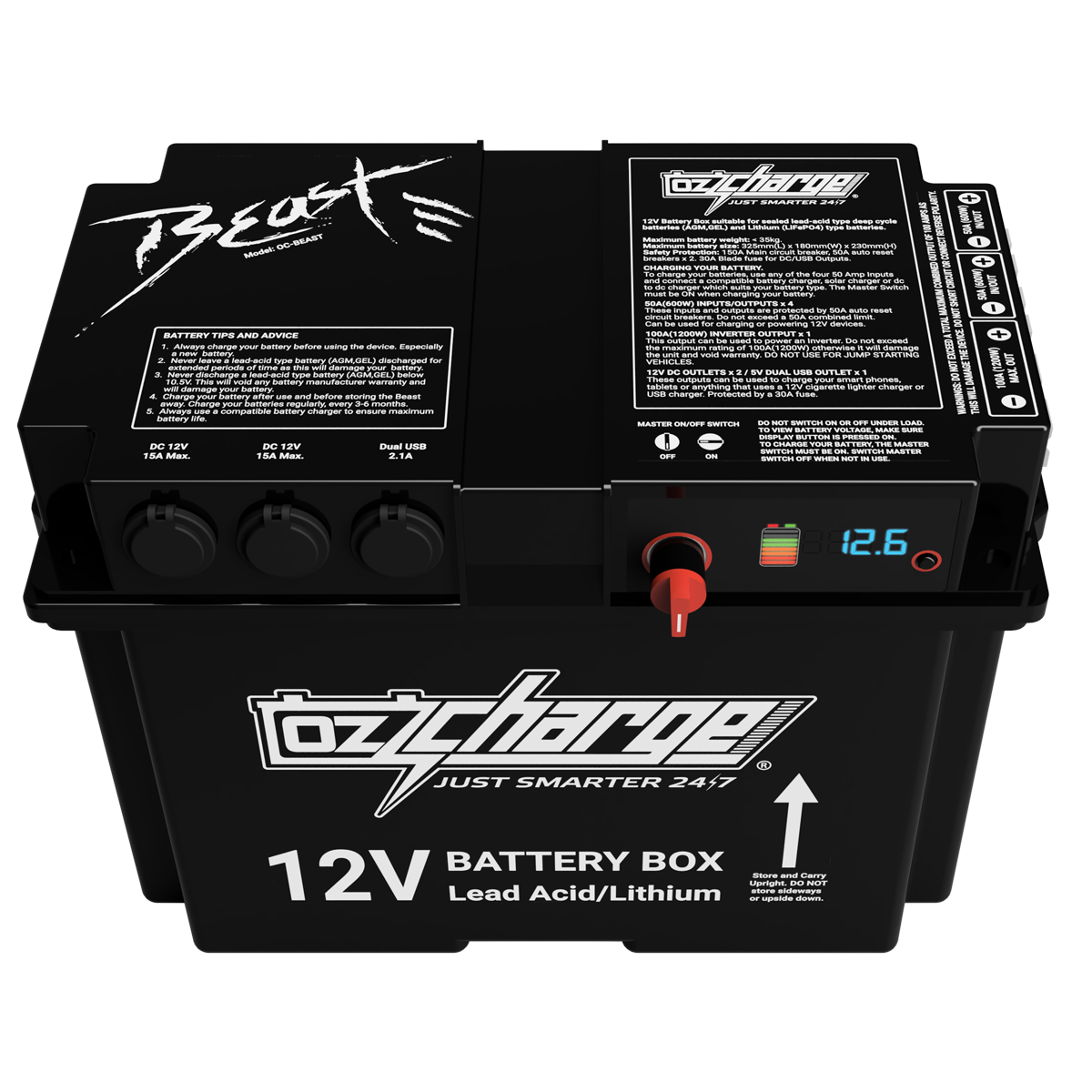 12V Beast Battery Box
Price:

Regular price

$299.00 AUD

$279.00 AUD

Online Sale
Product Description
12V Battery Box suitable for sealed lead-acid type deep cycle batteries (AGM,GEL) and Lithium (LiFePO4)* type batteries.
 
Compatible with all OzCharge batteries up to 120Ah. For all other batteries makes and models, refer to maximum battery size specifications below.
Some recommended OzCharge batteries are listed below.
OCB-110-12-Solar : 

12V 110Ah Deep Cycle Sealed AGM Battery
 (30.4kg)
OCB-120-12-Solar : 12V 120Ah Deep Cycle Sealed AGM Battery
 (32.5kg) 
Maximum battery weight supported:
< 35kg.
Maximum battery size supported:
325mm(L) x 180mm(W) x 230mm(H)
Battery Box External Dimensions:
 440mm(L) x 240mm(W) x 322mm(H)
Battery Box Weight (No battery fitted): 3.8kg
Warranty: 12 Months

Safety Protection: 150A Main circuit breaker, 50A auto reset breakers x 2 for 50A Inputs/Outputs,  30A Blade fuse for DC/USB Outputs.
 


50A(600W) INPUTS/OUTPUTS x 4
These inputs and outputs are protected by 50A auto reset circuit breakers. Do not exceed a 50A combined limit.
Can be used for charging or powering 12V devices.
 
100A(1200W) INVERTER OUTPUT x 1
This output can be used to power an Inverter. Do not exceed the maximum rating of 100A(1200W) otherwise it will damage the unit and void warranty. DO NOT USE FOR JUMP STARTING VEHICLES.
Note: This device does not contain an Inverter. It contains an Output to power up an external inverter.
 
12V DC OUTLETS x 2 / 5V DUAL 2.1A USB OUTLET x 1
These outputs can be used to charge your smart phones, tablets or anything that uses a 12V cigarette lighter charger or USB charger. Protected by a 30A fuse.
 
CHARGING YOUR BATTERY.
To charge your batteries, use any of the four 50 Amp Inputs and connect a compatible battery charger, solar charger or dc to dc charger which suits your battery type. The Master Switch must be ON when charging your battery. The OC-BEAST comes standard with a 50A to SAE charging adapter to suit the OzCharge PRO600 12V 6A Battery Charger. (Charger sold separately)
 
What's included.
Beast Battery Box (Battery not included)
Hold / Tie down mounting brackets and strap
OC-50A-SAE : 150mm 50A to SAE adapter for charging. (Suits OzCharge OC-PRO600 and OC1206U 12V 6A Battery Chargers)
 
Optional Accessories.
OC-50A-PP30 : 150mm 50A to PP30 adapter for charging. (Suits OzCharge OC-PRO1200 and OC1212U 12V 12A Battery Chargers)
OC-RT175A : 1200mm 175A to Ring Terminal Lead. (Suitable for powering external Inverter. 1200W Max) 


* Note: The LCD Display battery level indicator is to be used as a guide only. State of charge voltage levels for Lithium versus Lead Acid Type AGM, Gel batteries will vary between batteries.